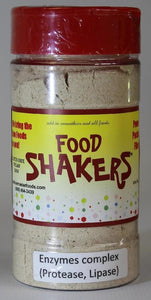 FREE SHIPPING OVER $85
FOOD SHAKERSTM POWER PACK FIBER were created for smoothies, juicers and to sprinkle on all your meals. When people make their smoothies or juicing sometimes they do not add grains and beans - complex carbohydrates. Now you can add raw fibers from many sources.
Food Shakers is so nourishing. Sprinkle in all your smoothies, juicing, salads, pizza, pasta, sauces, restaurant foods, carry out foods, fish, meats and desserts. A teaspoon is all you need!  Experiment with it on all of your food. Have healthy fun with it!
Raw Energetic Ingredients: Organic oats and steel oats, wholesome bean blend (black & navy beans, lentils & garbanzo beans, adzuki & kidney beans), whole grains blend (organic steel oats, millet, brown & red rice, amaranth).  10% of your daily vitamins & minerals (Vitamin A, B1, B2, B5, B6, B12, C, D3, E, Biotin, Calcium, Copper, Folic Acid, Magnesium, Niacinamide and Potassium).  Digestive Enzymes complex (Protease, Lipase).  Sprinkle on all your food and drinks.
Package: 6oz (2722.0 grams) Shaker Bottle