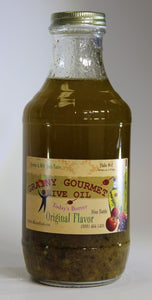 FREE SHIPPING OVER $85
Enjoy our GOURMET HERBAL OLIVE OILTM (Original) 16oz bottle. We like to call it "Today's Butter". This olive oil is blended and high in fiber from grains, beans, vitamins, and minerals with fresh fruit, and herbs. Add this to everything! You can cook with it, marinate meat, fish, pasta, bread dip, salad dressing, or vegetables. It makes all your food taste great! This is your new butter replacement.
Raw Energetic Ingredients: Olive Oil, white onions, wholesome bean blend (black & navy beans, lentil, garbanzo, adzuki & kidney beans), whole grains blend (organic steel oats, amaranth, millet, brown & red rice) Grainy Sea Salt, Grainy Pepper, lemons with herbs, 5% of your daily vitamins & minerals (Vitamin A, B1, B2, B5, B6, B12, C, D3, E, Biotin, Copper, Folic Acid, Magnesium, Niacinamide and Potassium).  Digestive Enzymes complex (Protease, Lipase).